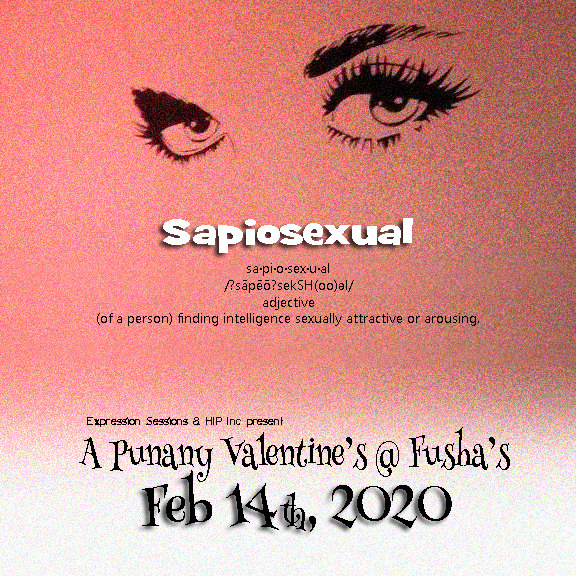 (of a person) finding intelligence sexually attractive or arousing.
The Richard Pryor of Rap, Page 1ne
hosts this special episode of Romantic Comedy Theater in Arlington, TX on Valentine's Day, Friday, February 14th at 9pm.
Let us engage one another in mind sex in "Sapiosexual" A Silver Anniversary Tribute to The Punany Poets with Expression Sessions at Fusha's Lounge, a cozy little Black-Owned gem you will fall in love with. Our HIP Team in the Dallas area is pretty great. You will enjoy this full-bodied Valentine's Show loaded with comedy and interactive moments of lap danmces, kisses and love confessions. This show is set to dj music with some live instrumentation, live art, vocalists, spoken word. Toast to your love with Fusha's signature Margaritas.Bring your open mind and fall in love again.
These video outtakes are from our recent visit with the team who will be co-producing our show "Sapiosexual" in honor of this momentous occasion. Watch more Punany Video at www.coffytv.com.
Get Tickets or a HIP membership card at www.punanytickets.com to attend.
Contact info@hipinc.org to Vend Punany Memorabilia at the show and all year long.
Venue: Fusha's Lounge is a Black-Owned Venue open to supporting the community of Arlington. The owner is just terrific, and her margarita and delicious. If you are interested in renting her space, or supporting other activities, reach out at (817) 663-5019. Facebook: https://www.facebook.com/FushasEnterprises/
Producer's: Expressions Sessions: Facebook https://www.facebook.com/pg/ExpressionSessions44
Tickets: 
Benefit: Proceeds benefit the artists and the venue creating the experience for you. Part of your donations benefit other programs at www.hipinc.org, like Jessica Holter's Voices of Foster Care. You can make donations, any time at www.voicesoffostercare.com