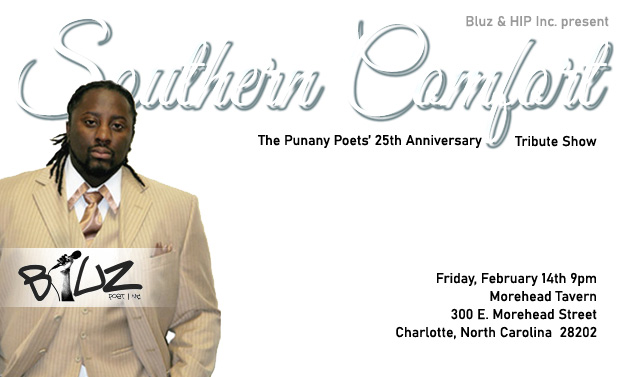 Don't miss this very special Tribute to The Punany Poets on their 25 Anniversary. We are so happy to have the Poet Bluz and his creative ensemble bringing this romantic comedy theater event for fans, family, and friends in Charlotte on Valentine's Day.  
Jessica Holter, The Punany Poets & Holter Intellectual Property, Inc.
& Bluz present
A Punany Valentine's Day

Southern Comfort
The Perfect Date Night in Charlotte, North Carolina
HIP INC and Poet Bluz present Southern Comfort a bold new interpretation of The Punany Poets' scholastically acclaimed literary series, Punany The Hip Hop Psalms. These sensual poetry event about love, relationships, and the human connection will stimulate all of your senses. From the center of your cerebral cortex, Southern Comfort will spread throughout your body. 
Southern Comfort is an interactive romantic comedy show starring, famed poet Bluz and special guests who will delight you with a sapiosexual experience that will change the way you think of date night! This interactive romantic comedy experience will delight your heart with Kissing Competitions, Love Confessions and more fun.
So come. Let us take you to places your heart has not visited in a while. With this proven Punany policy for adult sex education theater, based on Augusto Boal's Theater of the Oppressed. You should be ready for an encore performance of your own, before midnight!
Event Location:
Morehead Tavern
300 E Morehead Street
Charlotte North Carolina 28202
You can expect The Punany Poets signature style reflected with southern appeal in this production we call Southern Comfort, in honor of the book

Punany: The Hip Hop Psalms V, Southern Comfort

, written by our own spitfire HIP Team Member Aalani Renee, featuring Bluz and other Charlotte Area writers.